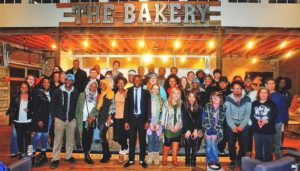 How we go about satisfying our audience
We are the voice of the youths
Audience
Community-oriented
Youths and young adults
People who are looking for fun and laid back events that are held on a consistent basis, as well as a desire to connect with Sioux Falls youths.
Anyone who would like to practice their craft in front of a loving audience or anyone who likes to learn and watch different talents on stage
Pricing
Our edutainment open mics are free entry
We provide free hot chocolate in the winter and Kool-aid in the summer
We are able to keep our snacks beverages free because of our loving audience who donate to us whatever they can in order for us to sustain. We love out community!
Promotion: How to find us
We rely on the good old word of mouth. OGP open mics has been growing tremendously because of why we do what we do.
Social media: you can reach us on our Facebook page and get connected with the rest of our community.
Open Mic Location
We host our FREE open mics at Augustana University at The Back Alley inside Morrison Commons in Sioux Falls.